Merging Traditional & Technological Education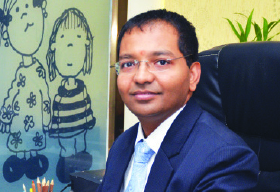 An Education Management Services company based out of Raipur, Strategum Eduserve indulges with preschools to universities at a nascent stage and help them conceptualize the project considering market requirements.
We are living in a world where we see influence of Science, Technology, Robotics, Engineering, Arts and Math(STREAM)every where around us. The impact of STREAM on our lives is as profound as electricity and water in modern times. While the world around has changed completely, aided and abetted by technology, our education system is still rooted in the traditional structures and practices completely cordoned off from the real world.
Some initiatives with use of technology in K-12 schools over the last decade have enhanced the engagement of student in the classroom. Prominently, the use of smart boards and multimedia lessons has helped teachers and students to some extent. However,it is difficult to ascertain the actual impact on learning outcomes or student engagement due to these technological interventions. In practice, we find notes of dissonance amongst the teaching community for use of these modern tools in the classroom. Yet, individualized learning platforms through apps and tabs have the potential to disrupt the complete K-12 school education space. In the short term, the unorganized tuition market and coaching business will certainly feel the heat of competition from such technology enabled education tools.
In case of higher education, the sector has seen tremendous growth in online and ed-tech industry. In fact a recent survey report by Google and KPMG estimates that India's online education industry is expected to grow almost eight times to hit $1.96 billion by 2021; with the number of paid users rising six fold from 1.6 million to 9.6 million. In higher and technical education, with a focus on working students in the country, online education has immense promise for growth and revenues. The up-skilling and certification for working professionals through online varsities will continue to see an upward trend. Augmented and virtual realities may also provide opportunities for skill development in various disciplines.
My experience of working with over 50 educational institutions over the last decade
from preschools to universities across the country reinforces my opinion that the frontiers of traditional education system in India are crumbling fast. Students across the age groups are getting smarter than the teachers in the classroom empowered with access to wealth of information online. The exposure of students is far greater than a humble teacher who is cocooned inside the four walls of the classroom. Any time, anywhere learning is becoming a norm. Students are questioning the width of school curriculum and are demanding education that builds the 21st century skills of communication, creativity, collaboration and critical thinking. The superiority of knowledge is being undermined with the skills of learning, unlearning and relearning in this agile society.
The exposure of students is far greater than a humble teacher who is cocooned inside the four walls of the classroom
It is opportune that the teachers in schools and colleges adopt technology as an enabler of education and student engagement. Teachers can no longer profess to be the "sage on the stage", but rather don the role of facilitators of learning. There are number of ways technology can merge with traditional education:
1. Assessment:
Technology tools can enable real-time and individualized assessment at a micro level deciphering the understanding of concepts. In a global society, the students can no longer compete with fellow students in class or school. They have to assess their knowledge and skills against global benchmarks and standards.
2.Individualized learning plans and goals:

Technology tools can help teachers maintain individual focus on learning goals and outcomes of each student under their rolls. Maintaining digital portfolio, creating online learning forums and observing students over projects inside and outside the school is possible through flipped classrooms and blended learning
3. Better student - teacher relationship:
The teacher and student can be part of the same cohort of learners as they explore the real world around them. As facilitators, teachers can gradually scaffold the levels of learning. The Learning Management Systems can certainly improve the communication and collaboration between the teachers and students.
4. Reduced burden of academic administration:

The use of ERP and school management software along with analytic tools for assessment can help teachers reduce the burden of academic administration and improve the focus on individual students learning goals and growth.
5.Student engagement and collaboration:
The use of Apple Education Program and other similar programs in classrooms has improved student engagement. Lessons come to life in classrooms and it appeals to the visual and auditory learners in ways that could not have been imagined before. 'Gamification' of education is another interesting trend.
In the modern education system, technological education or technology aided education can be a great enabler. In western countries, schools and colleges have begun experimenting the use of artificial intelligence, augmented reality and virtual reality in education. Education and learning as a social experience can never be replaced with technology tools. However, if the teacher does not adopt technology to meet the need of "anytime, anywhere" learning by students, they risk being obsolete in the near future.