Extramarks Education: Bestowing a Total Learning Approach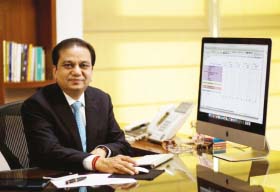 The Smart Study Pack bestowed by the organization enables the learners to access multimedia modules online through Extramarks website, and offline through personal devices with Smart Study Tablet/Stick, which can also be accessed on mobile phones through Smart Study App. In addition, the pack is embedded with a gamut of auxiliary features such as creating on-going 'to-do' list of chapters & tracking completion, saving references, end-to-end monitoring of academic performance and an opportunity to get avail the guidance of skilled mentors. 'Groups' has been another salient feature of the platform that encourages sharing of notes with peers, collaborating & exchanging information as well as posting and replying to queries.
"Our mission is to provide new-age digital learning solutions that bring the best of global technology to provide an engaging, child-centric teaching-learning environment both in the classroom and home," elucidates Atul Kulshrestha, Founder, Chairman & Managing Director, Extra marks Education. Furthermore,it is the only company that bestows O3 (One-on-One Learning Program). MES International School, Pattambi (Kerala) has been an example for the wide outreach of this matchless solution, where the company replaced the teacher-centric rote-learning system with its O3 solution. With students having better understanding of the concepts through personalized devices, MES claims that now 40 percent of the students secure A1 grades in comparison to 15 percent of them in the previous years.
Sprinting Ahead of Technology
From a tough beginning in 2009, where the lack of internet was restricting the digital teaching-learning process and schools were hesitant to implement technology in the classrooms, Extramarks later on witnessed a paradigm shift in the educational processes, accounting to the technology boom. Today, carving a niche market for itself with its unique pedagogy and implementation of latest technologies (with 200+ full time employees in the technology segment alone), the organization has emerged as market leader with its presence in over 7,500 schools across India and abroad, completely ignoring the cluttered content offered by others.
Extramarks modules on-board a game-based, the matic and adaptive learning approach for junior learners, and hierarchical, layered & adaptive approach for senior learners
The smart solutions developed by the company (on PHP Zend 2 Framework using HTML5 as base coding tool) work on all major platforms include engaging lessons, 2D/3D animations, adaptive assessments, skill based activities, and much more, thus making the 'Total Learning' possible. Besides the Smart Study Packs, Extramarks' comprehensive approach incorporates a wide range of offerings from Smart Class to School Management System, Assessment Centre(a complete analytic solution where every stakeholder can assess the progress of a student), Career Assessment Program, Smart Coaching Centers, Extramarks Toddlers (a first-of- its- kind educational device for children of up to four years of age), EMILLY (the interactive spoken English program), and Teachers' Training Program.
Extramarks modules on-board a game-based, thematic and adaptive learning approach for junior learners, and hierarchical, layered & adaptive approach for senior learners. Apart from that, the test-preparation experts of the company have also developed a solution to help students who have minimal time to spare for SAT preparation – SAT Prep, in addition to an Overseas Study Support program. SAT Prep will give learners a sense of how they would score in the actual test, through making the prospective student go through an extensive online examination on Reading, Writing, and Mathematics in a real-time environment."The crème de la crème of SAT Prep pack is nothing but the unlimited Test Series – that allows student to take the test for an unlimited number of times," adds Atul. Company's sparkling performance in the sector was followed by a gamut of awards & recognitions like 'Best ICT enabled content for K-12 segment' at e-India 2011 Awards and 'Best Multimedia Content for K-12 Education' at World Education Summit 2012 to name a few.
En Route to Future
Atul leads a team of 1600 people who have joined hands for making Extramarks the global leader in digital education, and they are always engaged with informal recreation groups, where they nurture & develop their abilities as per their field of interest. Atul says, "We also have a special division which is actively involved in community services". At present, the company does not have any external investors; however it works with many noted international advisors. Opining parents to ensure that the schools they send their wards adopt the best practices in teaching – learning, Extramarks is accelerating the momentum and surging on ahead towards building the future of digital learning. "Our constant endeavor is to deliver transformational learning experiences and this will continue in the near future and beyond," concludes Atul.
Panel
Key Management:
Atul Kulshrestha, Founder, Chairman & Managing Director
Though a Chartered Accountant, Atul has a knack for technology. Along side with Extra marks attaining global success and extreme popularity under his leadership, he himself has emerged as a global leader.
Offices:
India, South Africa, Middle-East and South East Asia.