Vidyashilp Community Trust Adopts a Government School at Byatarayanapura to Enhance Its Overall Infrastructure Quality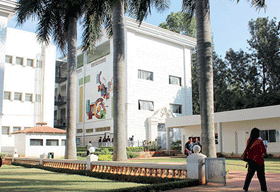 Continuing its efforts to uplift the society, Vidyashilp Community Trust(VCT) along with Vidyashilp Academy(VSA)adopts a Government Higher Primary School located in Byatarayanapura to intensify both interpersonal development & teaching skills so that the school can impart quality education to the students. This collaboration's principal objective is to enhance the overall quality, give necessary upgrades to infrastructure, teaching aid, and building a learning experience for the benefit of individual students of the school. Through VSA's integrated teaching & learning methodology based on current practices, the students will benefit from the practical application of knowledge, hands-on
opportunities,& more.

Speaking about the initiative, Kiran Pai, Director, Vidyashilp Academy, says, "Our society remains marked with stark inequalities - none more obvious in the education sector. Many public schools in Bangalore struggle with inadequate infrastructure, poor sanitation and hygiene, lack of professional learning and weak academic outcomes. This government school is no exception; it is our duty to step-in. In partnership with the Government school principal, Vani Gandhi, we aim to meet the developmental needs of our newly adopted students so that their future is just as promising, as the students of Vidyashilp Academy".

VSA is also intending to include co-curricular activities into the government school's academic curriculum and also watch the quality of academics, attendance of students, the parent satisfaction and tangible improvement in the student's academic scores. It's also endeavouring to enhance the school's essential infrastructure by undertaking activities like the improvement of the school playground, upkeep of essentials in the classrooms, painting, assistance in upgrading the library, early science lab, computer lab, & stores. As a cherry on top, programs like annual health check-up, nutrition camps for students, providing for notebooks and stationery, additional school uniform and shoes are also in the pipeline. With VSA at its helm, the school will handle campus activities on designated days such as Children's Day and Independence Day collaboration with students from both schools.

"We commit to nurturing socially responsive students, I am delighted that Shilpites value what they have been ascribed and have shown a deep sense of respect and humility to others who are pushing themselves to climb the social ladder.Interface with children in the community schools has helped us see the deeper and proactive side of our children," adds Kalai Selvi, Head of the School, Vidyashilp Academy.