Goa Institute of Management Hosts WIEF's IdeaLab 2018 Conference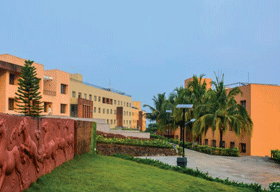 Tun Musa Hitam, Chairman, WIEF Foundation, says, "This is the first time WIEF's IdeaLab has travelled out of its home city, Kuala Lumpur. We started IdeaLab in 2015 and aimed for it to become a startup empowerment platform. Goa fits the bill perfectly for IdeaLab 2018 as Goa's government has proclaimed to make Goa not just a national startup hub, but the top 25 startup hub in Asia, by 2025. Our
objective is to boost startup ecosystems and therefore our focus is on early stage startups."

The event was hosted by Goa Institute of Management(GIM),one of the premier B-Schools in India and the conference is one of the several initiatives undertaken by GIM to celebrate its completion of 25 years of imparting knowledge to the country's future corporate leaders. Global investors are eyeing the startups in India as there has been a shift in the startup ecosystem as the startups are now focusing on technology and product innovation. Also, India's GDP grew at 7.7 percent in the first three months of 2018 and making it the world's fastest growing major economy, all because of the positive shift in gears by the entrepreneurs with new ventures. IdeaLab 2018 attracted more than 30 speakers from Malaysia, South Africa, Singapore, Scandinavia, USA, Denmark and more.

Dr. Ajit Parulekar, Director, GIM, adds,"A vibrant start-up ecosytem has three key components the geographical location one is based in and the infrastructure it supports, business leaders who can play a mentorship role and academia. We were shortlisted by the NITI Aayog, as one of the 13 institutes nationwide to host the prestigious, innovation oriented Atal Incubation Centre(AIC)and we chose to have a sector agnostic approach so that we can nurture start-ups across verticals. However, technology has a key role to play when it comes to scaling up a business venture."

NASSCOM reports suggest that number of start-ups funded and the deals rose up in 2016 and also Venture Capitals raised $2 billion for investment in seed or early stage startups. Remarkably, in India student entrepreneurs formed 350 startups in 2016, which records a 25 percent rise from the previous year. Also, India is now ranked third in the world when it comes to the number of tech startups.